Dani's Web Page
Australian Shepherd (long coat) : : Female : : Young : : Medium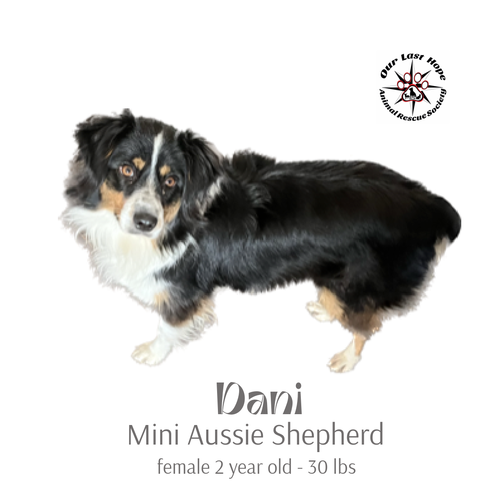 I would love you more than you can imagine.
Please adopt me!
Learn more about the Australian Shepherd.
Dani has an adoption pending, however we encourage you to apply anyway in case we consider other applications.
Print an adoption flyer for Dani!
About Dani

Status: Available for Adoption (adoption pending, please apply anyway) (adoption info)
Species: Dog
Current Size: 30 Pounds
Potential Size: 30 Pounds
Current Age: 2 Years (best estimate)

Location: Princeton BC V0X 1W0 (604) 749-7150
Fence Required: Yes (3 foot)
Declawed: No
Housetrained: Yes
Obedience Training Needed: Has Basic Training
Exercise Needs: Moderate
Owner Experience Needed: Breed
Reaction to New People: Friendly
Beautiful, affectionate, obedient and LOYAL dog. Dani is dog friendly but prefers to be loyal to her human. Dani is not looking for a home with many masters. This breed is hard working and dedicated to its master and needs to be your shadow. Breed experience preferred. Dani is an exceptional dog.
More about Dani
Good with Dogs
,
Good with Adults
,
Does Good in the Car
,
Requires a yard
,
Leashtrained
,
Cratetrained
,
Likes to play with toys
,
Likes to be in your lap
,
Protective
,
Obedient
,
Playful
,
Affectionate
,
Eager To Please
,
Intelligent
,
Even-tempered
,
Gentle
,
Goofy
For more information please contact us at 604 749 7150 or visit our website at www.ourlasthopeanimalrescue.org for application.
***application, contract, references, home check and adoption fee required***